Invest in Your Greatest Asset
I believe that we should invest in our greatest asset, ourselves.
When it comes to learning, I carefully choose which books to read, which seminars to attend, which online clubs to join, and who to listen to.
I've been a member of Bo Sanchez' Truly Rich Club for three years now! Wow!
I could say that it has blessed me financially, emotionally, intellectually, and spiritually.
Here's the summary of what I regularly receive from Truly Rich Club:
2 PowerTalks every month (instant access via MP3)
Bo's Success Mentors Collection (1 every 3 months for 1 Year)–FREE
WealthStrategies newsletters every month–FREE
Daily GodWhispers Email–FREE
How To Be Truly Rich Seminar–FREE
How To Conquer Your Goliath Ebook–FREE
How To Turn Thoughts Into Things Ebook—FREE
Ebook, My Maid Invests In The Stock Market…And Why You Should Too.–FREE
Stocks Update. –FREE
Every morning, I would listen to one or two of his talks. I immersed myself in his teachings. After listening to his talks over and over again, I became more positive. I became more aggressive towards my dreams yet remain gentle as a person.
If you're thinking on improving yourself and your finances, I highly recommend joining Truly Rich Club.  So far, I think this is the best online learning club at the lowest possible cost.
To know more about Truly Rich Club, click HERE.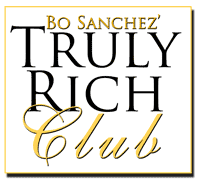 Get this FREE eBook!
The following two tabs change content below.
Sha Nacino is one of the most sought-after Filipino motivational speakers in the Philippines. She is the bestselling author of the books Money&Me, Mission Happiness, plus 7 other books. Sha is the founder of The 90-Day Book Writing Challenge where she helps first time authors write their books. She also writes for Bo Sanchez's TrulyRichClub newsletters. She regularly gives talks on Personal Finance, Happiness, Purpose, Success Principles, etc. If you wish to invite Sha to speak in your company or events, visit shanacino.com or email her at sha@seminarphilippines.com.
Latest posts by Sha Nacino, Inspirational Speaker and Prolific Author (see all)